Bontoc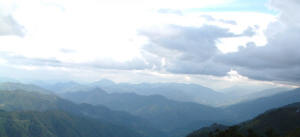 If you plan to travel on to Bontoc, it is only about 2.5 hours from Banaue, depending on stops. (In my Suzuki Vitara it takes about 1.5 hours.) The views are spectacular in this part of the world. From Banaue to Bontoc, after the first 15 minutes, the best views are on the left hand side of the vehicle. If you are game, then sit on the top of the bus or Jeepney. There are no overhanging things to worry about.
This town is much larger than Banaue, set in a wide valley. It is a trading centre for the region – the biggest market, lots of jeepneys and buses and general bustle. Most banks can be found here. I have stayed once, for one night only. My friend and I found good food difficult to find and decided to move onto Sagada the next day. We stayed at the Pines Kitchenette, near the market and bus terminal – very basic and the food downstairs was OK. Don't trust the large bottle of 'purified' water dispensed in the dining room.
We did one interesting thing while we were here – no, two in fact. The museum is well worth a visit for a couple of hours. It is a well organized exhibition of photographs (back in the head-hunting days) fabrics, basketry, jewellery, weapons, fascinating books etc, plus a replica of a village outside with the old houses, pig pens, girls and boys dormitories etc. Have a look.
We also made enquiries about the local weaving industry and were directed to a community on the other side of the river. This is not a tourist destination at all, but walking through the small, cramped village was fascinating. Fortunately a woman who teaches in the Bontoc school lives in this village and took us around to visit 3 or 4 weavers working on the traditional backstrap looms. This was most interesting. We bought several meters of fabulous cloth from a girl who is paying her way through secondary school with her weaving. To have met the weaver and know what she has gained through her industry has made the cloth so much more valuable to us. It is really very beautiful.
Take a walk through the market and browse through the second hand clothes shops for bargains – T-shirts, warm clothes, jeans, jackets are all available there and mostly of good quality and very cheap. These clothes mostly come from overseas.
Food
Eat at the Mid-town café. That is where the locals go. It is situated alongside the market in the center of town. Brewed coffee and simple food of good quality is available all day. They also have an outside eating area at the back. We rated their chicken mami (combination chicken soup) as the best we have had and it is cheap at 40 pesos.