Tinglayan - Kalinga Province.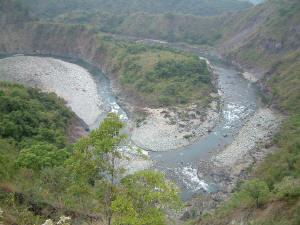 Bend in the Chico River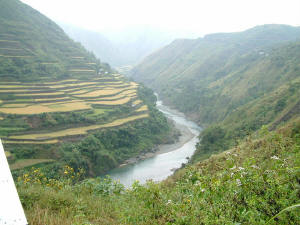 Chico river en-route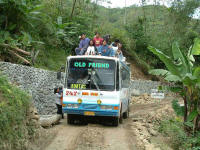 The best views are on top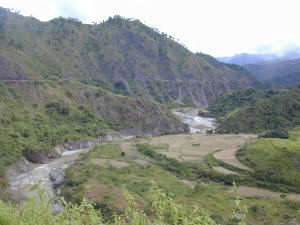 More Chico river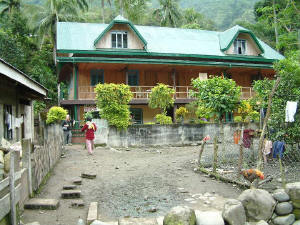 Riverside Inn - Luplupa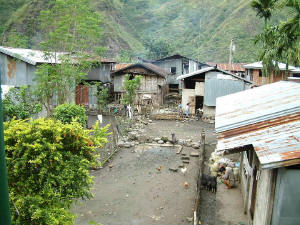 View from Riverside Inn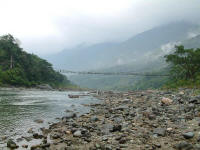 Foot-bridge to Luplupa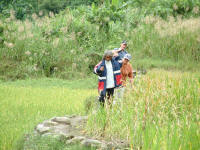 Victor Baculi, Elaine, David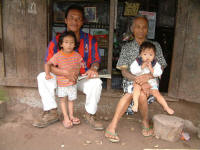 Francis Pa-In and mother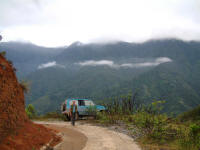 Janet on road to Tulgao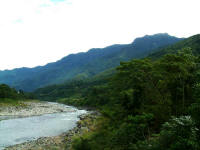 Sleeping Beauty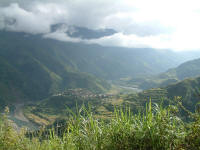 Distant view of Bangad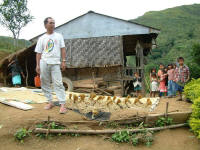 Carlito Oplay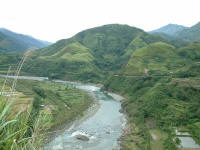 Chico River from Bangad
We did this trip in late December 2003 and can very highly recommend it. Just writing this article reminds me of the extraordinary experience it was to be in these remote communities for those few days. I will be back!!! It was made all the better for the friendliness and hospitality of the the the local people. I was warned by Filipino friends about the warlike nature of the ex-headhunters of this region and to be very careful around them. How completely wrong they were.
Tinglayan is about 40 Km north of Bontoc in Kalinga Province. We based ourselves in the Riverside Inn in the village of Luplupa, and stayed for three nights.
For this trip allow for lots of sightseeing stopping time. The road, which follows the Chico River, offers some of the most beautiful views we have seen in the Philippines. Valley after valley of extraordinary mountain terrain with rice terraces situated in seemingly impossible places.
The dirt road is good though narrow. The regular road users know where to pull over, so you won't have any trouble if you are driving yourself. There are a few muddy patches so we would not recommend you do this in a standard sedan card. During the wet season, you will definitely need a 4X4. The jeepneys that ply these roads permanently lock their rear differential, which is why they can get through during almost any weather condition. If there are a few of you, consider renting a jeep to take you there at your own pace. We have a 4x4 Suzuki Vitara, so that is how we traveled. If you take a bus or jeepney, the best seats are on the roof - if you are game.
At a bend in the road about, 100 meters before the Butbut turnoff, there is an old open hut (GPS N17°12.038' E121°05.281'). We made a fire and had lunch there while enjoying the great views from this shelter.
Luplupa
About half a Km before Tinglayan you will pass by the barangay (village) of Luplupa. As in so many cases, the actual village is not where the road cuts through the mountainside. There is a large swing bridge to the village that crosses the Chico River on the right. If you are going by bus or jeepney, just tell the driver you are going to Luplupa and you will be dropped of at the right spot. If you have a car, park it in front of the sari-sari store right in front of the steps going down to the bridge. The locals will make sure that your car is safe.
You will want to stay in the Riverside Inn – well there is nowhere else. If you have lots of luggage, get someone to stay back with it and walk down to the village to make sure that there are available rooms. Jonny or one of the other staff will find any number of boys to help carry your luggage to the Inn. Pay them P50 each and they will think all their Christmases have come at once. To get to Luplupa and the Riverside Inn, you will need to cross the suspended foot bridge across the Chico River. Ask a local if one of the boys can take you there, or someone might just say "follow me", which is what happened in our case.
Accommodation is P150 a night each, which is a bargain given the quality of the rooms. The rooms are very neat but there is no private toilet of bathroom. The two communal ones are kept very clean and tidy.

The best part of the Riverside Inn is that you get to stay right in the heart of this small rural village. Very Nice!! The large upstairs verandah is a real treat.
The Riverside Inn is run by Victor Baculi. To say he is a character would be an understatement. He has been the barangay captain (village chief) for 6 three year terms. This is because he keeps on bringing prosperity to his community, especially through overseas benefactors. He will join you for some drinks on the upstairs verandah in the evening (or in the morning if you are having one). You will have some good laughs with him and he likes to tell many jokes. Victor will take you on your trekking adventures if that is what you want to do. He is an excellent guide. As barangay captain, he knows everyone and everything that happens in the surrounding villages – celebrations, parties, etc. to which you are likely to be invited. Also as barangay captain, he has lots of responsibilities which he may mix with your trek or tour of the villages. This could result in a lot more drinking and eating than trekking. However, at the end of it you would have had a perfect day, as it was for us. It is best to go with the flow and plan from day to day, or even hour to hour. If time is limited and trekking is your main objective, check out with Victor if he can really fit your schedule. If there are other guests, it may get a bit complicated for him to take everyone in different directions. If Victor does not have a guide for you, try Francis Pa-In who you will find at the Sari-Sari store at the top of the steps by the roadside. We spent some time chatting with him and he is very knowledgeable of the local history. His mother, (see picture) is heavily tattooed, and her photograph appears in David Howard's book "The Last Filipino Head Hunters".
There is a lot more to do in Tinglayan than we did. More than a week of continuous rain had made many of the tracks and rice terraces impassable to all but the experienced locals who are extraordinarily sure-footed. Victor took us for a walk through the surrounding villages of Tinglayan Proper and Liglig. This involved traversing many rice paddies. It was quite a treat. We stopped for drinks, coffees, chats and photo opportunities.
As we have a 4X4, we also were able to take a drive up the road behind "The Good Samaritan", a hotel in the centre of town. We passed a jeepney on the way so there must be some transport going up to Tulgao, the village at the end of the road. We were going to go there, but just ran out of time.
One of the things to do if you have time is to trek to Butbut. It requires a lot of walking but it can be shortened by catching the jeep to Bugnay. Get Victor to take you if possible. You cannot go there without a guide, which is the case for most of the villages in Kalinga Province. A guide is the difference between being an intruder and being the guest of a friend. Also consider Carlito Oplay from Bangad as your guide. He was the school teacher at Butbut for many years.
There are two other places to stay in Tinglayan that I know of. They are the "Sleeping Beauty" and the "Good Samaritan". They are both on the main road. We did not get to check out the Good Samaritan because it was fully booked but I hear that it is passable. For the Sleeping Beauty Inn.....well......lets say that it is very basic at best.
People will often ask whether you have seen the "sleeping beauty". It is quite a sight to see the outline of a mountain range form the silhouette of a young woman with her hand resting on her stomach.
Bangad
Some 15 Km (I think) north of Luplupa is the Village of Bangad. It is on the northern boundary of the municipality of Tinglayan. It is on the main road so not difficult to get to. Victor Baculi suggested we stop there and take a look around. Our guide was Carlito Oplay, assistant Barangay captain of Bangad, and also the the local teacher (about to retire). Carlito took us around his village and showed us some stunning views of the Chico River. If you are interested in local history, then Carlito is a real find. He is eloquent in his speech and very knowledgeable. Every step of your tour will be filled with information; he will point out the old Spanish trails or places of recent disasters. He told us about the hardships that he and the other villagers faced during the brutal Marcos years. Everywhere that we went we were warmly greeted by the children. This village does not exist in any tour guides, making it all the more special. Carlito invited us for lunch at his house which was a further treat. Do stop here if you have the time.
White Water Rafting.
Luplupa is also the start point for much of the white water rafting on the Chico River. If you are into this thrill, June and July are the best months for rapid rapids, just after the first typhoons. The season ends some time in December. Contact Naty on +63 920 205 2680 if you are interested. She is based in Tabuk.
Getting there from Bontoc.
The journey by either jeepney or bus takes about 3 hours. Jeepneys leave for Tinglayan at 1pm and 2pm, . For the return journey, jeepneys leave Tinglayan at 7am and 8am.
Busses leave Bontoc at 6, 7 & 8am. Their destination is Tabuk and Tinglayan is en-route. Return busses pass through Tinglayan at 9, 10 & 11am.