Camping at Buasao (Near Sagada) - Updated 27th January, 2009

This is my second trek to Buasao. I am pleased to be able to say that Buasao is exactly as it was 5 years ago, so I do not need to edit my previous article. There are a few additions which I have added at the end, including information about our guide Allen Bugnosen.
Camping at Buasao - Mountain Province. April 5-7, 2004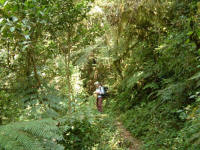 Trail passes through mossy forests.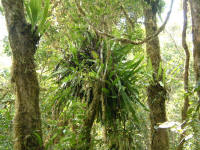 Ferns on the trail.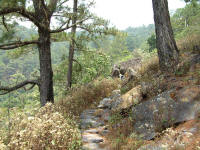 On the trail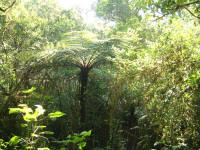 Tree ferns on the trail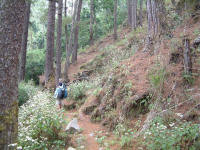 The trail through pine forests.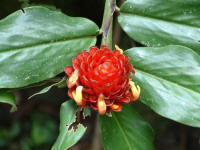 One of many native flowers.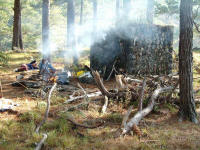 Buasao camp site.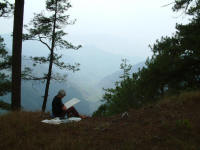 Janet painting. View to Besao from Buasao camp site.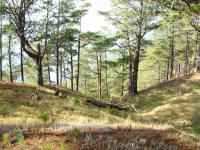 Another view from the camp site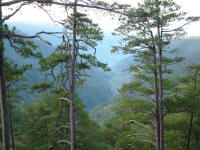 Yet another view from the camp site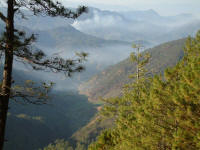 Looking down over Besao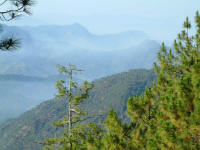 Another camp site vista.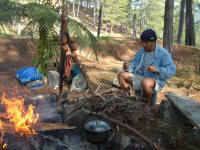 Allen tending the fire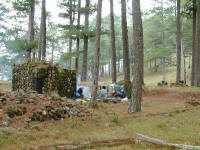 Another campsite view.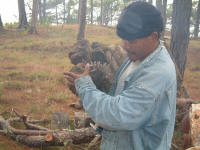 Stage-1 of dung oven.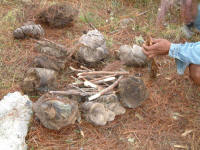 Stage-2 of dung oven.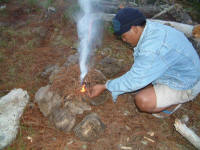 Stage-3 of dung oven.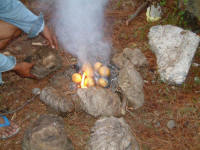 Stage-4 of dung oven.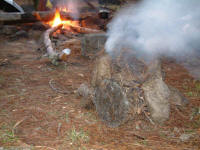 Stage-5 of dung oven.
You are not going to find Buasao on any map, or find any reference to it anywhere. I have searched the net and it does not exist. Even the famous Henry Scott, who covered every aspect of the history of the Cordillera does not make reference to it. It is nice to know that places like this still don't exist :-} The place is also steeped in mystery in that no-one knows what happened to a European missionary who came there during the 1940's, and hid out there during the second world war. He was obviously a skilled mason going by the stone blocks he left behind. A greater mystery is the significance of the huge stone structure that he built in the in the middle of his dwelling. It can be seen in the "camp site" picture.
Buasao is located somewhere in the common-land border region near where the Mountain Province, Abra and Kalinga borders meet in the Cordilleras of Central Luzon. We went via Bangaan in Sagada, although distance wise, Besao would be closer.
Our guide was Allen. This was only his second visit to Buasao, but he had travelled the nearby routes for some years. I missed out on the trip that Janet and others did to Buasao in January this year and felt that I really did miss out on something, from all the stories that I heard.
It was Easter holidays, April 2004 and I was determined to go to Buasao, even though there were so many other things on my "holiday list". Because we wanted to minimize the "rush factor", I decided that we would drive my car the short distance to Bangaan - the departure point to Buasao. Janet and others had previously taken the Jeepney, but that involved some waiting which I was wanting to avoid. Bangaan has only one secure parking spot which happens to be at Allen's Aunts house.... the advantage of having a local guide.
We set off on our 9KM trek with all of the supplies that we would need for the next thee days. Shelter, cooking utensils, food, extra warm clothes, etc. There was fresh spring water on the way so we only needed to carry about a liter of water. We did take an empty 5 liter container for water supplies at the camp site.
The first kilometer was the most difficult part of the trek. In that kilometer, we climbed a thousand feet. Although the track was not difficult to negotiate, I could feel that I was not as fit as I had thought.
The next 8km would have been fairly easy, had it not been for the previous kilometer. But I was on holidays so I decided to take it easy, which paid off. It was a beautiful walk. The landscape changed continuously. What was once lush tropical forests, has now been mostly replaced by pine trees. On a positive note though, the pine forests are a much better source of building timbers than the natural forests ever were. Because the pine is only used locally and not harvested for any other purpose, this has meant that not all of the original forests have been destroyed. On this trek, we passed through numerous sections of native forests, called "mossy forests" by the locals. Because my botanical vocabulary is limited to a few words such as "trees", "shrubberies" and "flowers", I will let the pictures tell the rest of the story.
As we passed through these clumps of rainforest, I could feel an extraordinary climate change. Most of the surrounding areas are quite dry, but the rain forests seemed to be oblivious to the season. The moment the trail enters the rain forests, the humidity soars to 100% and the temperature appears to drop ten degrees C or more. The abrupt transition from pine forest to a rainforest ecosystem was an extraordinary experience in itself...A time for reflection.
Besides photo opportunities, there were endless things to stop for on the trail; pitcher plants, native strawberries, assorted shrubberies, beautiful vistas and a small river just before we reached the camp site.
Arriving at the camp site after about a five hour trek (stroll), it was an exhausting exercise to watch Allen get the camp set up in a matter of minutes. Before we knew it, he had a raging fire going, to boil the billy (Australian tea connoisseur's kettle, which could be a jumbo baked-beans can) for our first cup of locally grown Arabica brewed coffee.
It was a treat to watch Allen in action, although we thought that one tree on his shoulder at a time was quite enough. The limit of my exertion was to find a rock to sit on to watch it all. Allen took one quick look at it, and converted it into a park bench.
Our shelter was a sheet of plastic strung over a rope. It was solely to provide protection in case it rained... which it did.
We were well-stocked for food, but Janet failed miserably on the alcohol supply.... a blessing in disguise in hindsight. Allen had bought up big on locall ham and longaniza sausages. The ham and sausages were kept drying in the smoke of the fire for the entire stay. The ham was cut into strips such that it opened like the pages of a book. This, I found out later, is the proper way to make jerky. The ham tasted better as time went by. I thought Allen was a bit loopy to bring a ham, given that we had no refrigeration. One realizes that there was once a time when there were no refrigerators... and they managed... and quite well, I learned.
The nights were quite cold and we all slept in our clothes and jackets, covered in blankets, and close to the fire. This was during Easter in the Philippines.....who would think that?
The first morning was a delight. I sat by the fire until eleven in the morning and boasted of my accomplishment of having done absolutely nothing.... It has been too many years since I have done this in the Australian outback. Who would think that one could be doing this in the Philippines.
About a fifteen-minute stroll from the campsite, is a beautiful stream, with a nice deep pool to bathe in. It is a pity that the temperature of the water was just above freezing. It was a treat all the same and lots of laughs as Janet and I braved the waters up to our toenails.
As I sit here and type my recollections of this camping trip, I am continuously amazed at the diversity of the landscape. I have not come across this before. It is made all the more surreal by the early morning shadows cast over the rice terraces of the Besao valley.
I wish I had planned to stay an extra day at least. The relaxation was overwhelmingly therapeutic, but the food wasn't going to last, so there was no choice.
The only other people we came across were a farmer from Besao, and his son. They asked us if we had seen their carabao (water buffalo). Our know-all-guide Allen explained to us that during the summer months, the farmers take their carabao to the forests, to fend for themselves. This saves them the effort of having to feed and care for them. The calls of "HOO" that we heard were the farmer calling for his carabao. Allen explained that the carabao knows exactly the sound of their master's voice, and will come charging out of the forest to greet him. This is not quite as romantic as it sounds. Apparently, the carabao have a lust for salt that defies description. The farmer will go up every week with salt to ensure that the carabao will still come to him when the plowing season begins. For this reason, only the master may ever feed salt to the carabao..... Information like this is one of the good reasons to take a local guide, Allen especially.
A warning also. To the carabao, all things pure white are, or could be, salt. So don't leave you white socks or knickers hanging around where some salt-craved carabao can take off with them.
The Carabao (water buffalo) Dung Oven.
The carabao dung oven was one of the great treats of our camping holiday. Janet had brought a kilo of potatoes and we wanted to roast them. Allen convinced us that the best way to roast them was in a dung oven. A barrage of wise cracks flew at him and it is not hard to imagine their substance.... dung marinated potatoes, etc. But we went along with it for the experience. The five stages of the dung oven are captured in the pictures.
Stage 1) Get someone who is quite comfortable with carrying an armful of dung to go out and collect it. Only one volunteer was found and his name did not start with "J".

Stage 2) Make a circle of it as one would ordinarily do with dung. Then put in sticks and burnables in it.

Stage 3) Light the fire making sure to inhale as much of the smoke as possible :-).

Stage 4) Place gourmet potatoes on burning dung bed.

Stage 5) Cover with remaining dung and let the roasting take place.
The roasting took no more than 20 minutes because the dung oven is remarkably hot..... And for the taste.........superb!... once you get over the obvious.
The view to Besao.
(Not to be mistaken for the campsite of Buasao. They sound sort of the same)
A highlight of our time at the campsite was to watch the changing light over the Besao valley, especially in the early morning and late afternoon. I have been to Besao several times before but found it to be one of those places of no interest. I may have to go again as obviously my knowledge of the place was too little to appreciate it. Besao is famous for its sunsets - especially the one that occurs every September 30th. This is in the Barangay of Gueday, where there are two enormous rocks through which the rays of the sun pass onto a crevice on exactly the 30th of September. This signifies the beginning of the rice sowing season.
Alternative Camping and Trekking Options
This article is not only about about Buasao. There are so many places like this, all over the Cordilleras (and the Philippines). Allen says that the trek to nearby Mt. Pulis is spectacular, and so is the overnight camping at Mt. Ampacao.
John..16th May 2004
My Second Trek to Buasao - January 19 to 21.
Almost nothing has changed since my first trip to Buasao. This time I went in January so it was not as dry as in April. We were lucky as there was no rain and I was able to sleep with a clear view of the stars.
Where before I went with Janet and Allen, this time it was a boys' only event and there were eleven of us. There were several local Sagada foreigner residents and many locals, some of who were professional guides. Allen was there again also. This was not an organized tour, it was just a bunch of guys who all decided to go camping for a few days and I was invited to join it.
Next time I will not carry my own pack though, I will hire a porter to carry my gear. I was OK going to Buasao with my 17Kg pack, but I did slow everyone down. On our return to Sagada, we went the long way and one of the locals offered to carry my pack. I am sooooo glad that he did. It made the trek to much more enjoyable.
We returned to Sagada the long way and we walked for many hours through virgin mossy forests. It was extraordinarily beautiful. The decent from the ridge top was tricky for me because my shoes had no grip and I ended up going down on my butt in some places.
This will not be my last time to Buasao.
Allen Bugnosen - Our tour guide
This is the second time that I have been camping with Allen and again I realized that he stands out from the crowd as being both witty and a skilled "bushman".
If you are interested in going trekking or camping outside of Sagada, then you would be unlikely to find a better guide than Allen. Firstly he is an entertaining character and your trek will not be boring. He is very knowledgeable about the mountains around Sagada and has done a lot of trekking there. Allen is also fluent in English.
The minimum trekking/camping period is 3 days and two nights. The cost for the three days is P5700 total for one or two persons. For more people, you will need to add P1500 as there must be at least one porter/guide for every two persons. If you don't want to carry your own packs, you can hire a porter through Allen, or as many as you like at P1500 each for the three days. I would definitely get a porter to carry my gear next time.
For every extra day over three days, add P1900 for Allen and P500 for each porter.
Food is extra but you will need to discuss that with Allen. Note that Allen's side business is smoking ham and bacon and you could not do better than to order some from him and bring it along. Allen can do all of the cooking for you but you will need to discuss with him what you want. Payment must be made in full before the commencement of the trek, and you will need to pay a few hours in advance if you want him to buy the food.
To contact Allen call on +63 919 336 3199 for international callers or 0919 336 3199 for local callers.