A Travel Guide for the Chocolate Hills of Bohol
Updated October 27, 2010
Bohol is best known for the Chocolate Hills, a geological formation of some 1,268 grass-covered mounds that look chocolate-brown for a few dry months of the year, and green for the rest. They extend over a large area of Bohol, from the center of the island, and almost to the west coast. I have toured the Chocolate Hills twice on motorbike, and thoroughly enjoyed it each time. The country side is beautiful and there are many interesting stops along the way. The longer route via the west coast is better, because it involves a long drive through the Chocolate Hills, which is a very different experience to only seeing them from the view deck at Carmen. The busy times are on weekends and holidays, so plan your tour for during the week if you have that option.
There are many tour operators offering various Chocolate hills packages which usually includes lunch on the Loboc River Cruise. Any resort will arrange a tour for you or you can hire your own vehicle with driver.. The tour package typically costs between P1,200 and P2,500 per person, depending on how many people on the tour and what is included.
An alternative to the package tour is to hire a van or car with driver. A car holds up to 4 passengers and a van will take up to 12. The typical car cost is P2,500 and P3,000 for a van. This is for 8 hours and and the prices will vary plus and minus a bit depending on the number of passengers and which tour you are doing. All entrance fees must be paid for by the passengers.
The tour costs about P350 each when riding two up on a rental motorbike. This cost excludes all entrance fees but includes motorbike rental, fuel and entrance fees.
Off-the-beaten-track backpackers should enjoy the Chocolate Hills as much as the package-tour tourist. Pick a sunny day to do the tour if you can. Leave early in the morning because there are many stops worth fitting into this tour.
The Bohol Chocolate Hills Tour to Carmen through Loboc
Most tour operators will take the route through Baclayon, Loay and Loboc and ending at the View Deck at Carmen. It's about 55km to the Carmen View Deck from Tagbilaran, and about 70 km from Alona Beach. The coast road to Loay has pretty views of the ocean most of the way..
There are many more old churches along the way and it would be a waste of the reader's time to list them all. They are all along main roads, so if you are interested, stop and have a look. About 7 km out from Tagbilaran you will pass by the Baclayon Church, believed to be the oldest Roman Catholic Church in the Philippines – all tour drivers will stop here. From Loay you will head inland to Loboc, a place that would have been picture perfect before the tourist businesses moved in, but it is still nice. This is where you will do your "package tour river cruise" with lunch on the boat.
Loboc River Cruise with Lunch
This is included in the standard Chocolate Hills tour package. At least a dozen barges do a one hour tour of the Loboc River and a smorgasbord lunch is served during the cruise. There are usually some cultural activities as entertainment, either on the boat or at a stop during the cruise. A few of the boats must put on a good show because shrieks of laughter can be heard from them. The passenger on some boats seem more somber while others boats have many of the passengers singing at the top of there voices. My boat had few passengers so there was no entertainment provided. There is not much to see along the river but it is a pleasant enough cruise. I would not rush back to do it again, but that may be because there was no entertainment provided on my cruise, which was rather disappointing, especially since it is supposed to be a key component of the cruise.
If you are organizing your own tour, as I did, the cost with lunch is P300, plus an extra P100 as a park entrance fee. There are 6 cruise operators to choose from, each having a different menu and entertainment. The tour cruise departs from Loboc, on the opposite side of the river to the main road. There is a foot bridge across the river near where the bus stops, and there is a rickety bridge a little further down where you can cross with a motorcycle or car.
Man Made Forest
The drive from Loboc to Carmen is very pretty and you will pass through a 2 km thickly wooded stretch called the Bilar man-made forest. On a motorbike you will notice the instant drop of temperature as the road through it is shrouded in huge trees, many of them mahogany. This is a good place to stop and soak in the cool forest air. A stop here will be on your tour package itinerary.
Simply Butterflies Conservation Center
About 5 km further on, you will pass "Simply Butterflies". This is a butterfly conservation garden and education center, and well worth a short stop. For the P30 entrance fee, a very knowledgeable guide will take you through an educational tour of the place, telling you lots of interesting things about butterflies. You also get to sniff the strong vanilla/chocolate scent of a butterfly's pheromones, an interestingly weird thing to do. The area is also the natural habitat for the largest butterfly in the Philippines, Troides magellanus - also known as the Magellan Birdwing. Very basic meals are available at Simply Butterflies. If you're hungry, it may be wise to eat here as there is unlikely to be anything better for quite some time.
Chocolate Hills at Carmen
Just before Carmen is the turnoff to the view deck. The entrance fee is P50 each. The pictures included in this article tell most of the story about this lookout. The food in the cafeteria is as bad as it gets anywhere, so bad luck if you turn up hungry. There is a government owned hotel here and there is more information about it in the accommodation section below.
The normal tour package will finish here at Carmen and the journey back will follow the same route that you came. Alternatively, take the west coast road back as described in the next section below.  
Returning from the Chocolate Hills Tour via the West Coast
Rather than heading back from the Chocolate Hills the same way, take the coast through Clarin, Loon, Cortes and then back to Tagbilaran. It will add 30 km onto the trip but well worth the time. Much of the mountainous terrain from Carmen to the west coast is dotted with Chocolate Hills, making for a very interesting journey.
Sagbayan Peak Chocolate Hill View Deck and Picnic Area
Stop at the Sagbayan Peak view deck and see the Chocolate Hills from there. This is a great view deck and I prefer it to the Carmen View Deck. The entrance fee is only P20. On weekends and during the holidays, the Sagbayan Peak is a very popular picnic destination for families with young children. The attractions are the theme park, the swimming pool with slides, the large restaurant and the picnic huts around the pool which can be hired for the day.
The Disneyland theme around the view deck may be a bit off-putting for some, especially foreign tourists who have come to view only the Chocolate Hills - but the children seemed to love it. There is also a "Kids Town" play area with a nursery-rhyme theme and a garden with a variety of life-sized sculptures of dinosaurs and African animals which can be played on. For many of the not-so-young Filipinos, these attractions provided a myriad of posed photo opportunities, even more-so than the Chocolate Hills landscape for some.
There is a cage where you can go in and see a few tarsiers from up close. Although tourists are not allowed to use flash when taking pictures, it seems that hardly anyone knows how to turn off the automatic flash – taking pictures should not be allowed at all. It is great to be able to see the tarsiers up so close, but there should be a trained caretaker to supervise the visitors so that these fragile creatures are not harassed - I saw a tourist holding two of the tarsiers on one of my visits there.
There is also a large butterfly cage which you can go into - the entrance fee is only P10.
Bohol Chocolate Hills Tour by Rental Motorbike
I highly recommend touring the Chocolate Hills on a rental motor bike, if you can ride one. The roads are all in very good condition which ideal for a small motor scooter. The traffic is light, again making it safe for motorbike travel. Above all, the scenery is fantastic and best appreciated from a motorbike seat. The round trip from Alona beach is 140 km going the direct route, and 170 km taking the west coast route. Expect to pay about P200 for fuel. Riding two-up on a motorcycle is a cheap and fun way to tour Bohol.
Chocolate Hills and Bohol Countryside - One and Two Day Tours
The best one-day Chocolate Hills motorbike tour follows the west coast road to Clarin, then cuts through to Carmen in the center of Bohol, and then heads to the South coast road though Loboc to Loay, and then back to Panglao Island. To get in all the sights and get back before dark, leave no later than 8 am. If you have the time, do the tour twice over two days; which is what I did. On the first day got to the Chocolate hills near Carmen and take in all the sights, of which there are many. Go back the same way you came which was through Loay on the South coast. On the second day do the loop tour through Clarin and Carmen and back though Loay. The drive from Carmen to Loay is very scenic and hard to tire of - so traveling this stretch three times is a triple treat in my opinion.
Traveling via the west road requires you to pass through the center of Tagbilaran. Here you will experience some heavy but very slow traffic, and it may take 15 minutes to get through it. Take it easy, do as the locals do and stop and go when they do. Every time you are not sure about which way to go, just ask a tricycle driver.
Renting a Motorbike
I don't recommend you hire a trail bike because they are too uncomfortable for the long ride and you won't need trail bike features on Bohol's good roads. The small motorbikes and scooters are very comfortable and have all the power you need, even with a pillion passenger. There are countless motorbikes for rent in Bohol, mostly around Alona Beach and some in the capital, Tagbilaran.
Motor Bike Rental at Alona Beach
Walking around Alona Beach you may hear too many times someone call out "Hey, do you want to rent a motor bike – only 600 pesos", but these are definitely not the people to rent from. My recommendation is to rent from RHEAS Rentals which is run by an Englishman called Dave. I rented from him for 3 days and the bikes performed perfectly. The cost was only P400 per 24 hour day. RHEAS Rentals are on the main road, about 100 meters left of the Alona Junction (with your back facing the beach). His cell phone number is 0999 5090 441.
Motor Bike Rental in Tagbilaran
In Tagbilaran, there are two motor bike rental places right opposite each other. They are in Palma Street, within walking distance of the Pier or a short tricycle ride from the airport. Speed Motor Rental seems to have the better bikes over Boysam, although not up to the standard of RHEAS rentals. Their prices are P500 for 24 hours and P1000 for the Honda XR200. Speed Motor Rental cell phone number is 0906 5077 848.
Sun, Rain and Insects on the Motorbike
Doing a full day tour on motorbike means that you could be in the full sun for many hours, so apply lots of sunscreen regularly. Also prepare for rain and make sure that you have plastic in your backpack to protect your for valuables. It can get quite cool on a motorbike when it rains in the mountains so consider taking a light waterproof jacket, especially if you are a Filipino who feels the cold easily. Sunglasses are useful for keeping the bugs out of your eyes at dusk. On Alona beach they also sell clear lens sunglasses that are great for keeping the bugs and rain out of your eyes if you are going to be riding at night.
Motorbike Helmets
One rarely sees motor cycle riders or their passengers wearing crash helmets - so this seems to be the norm in Bohol. If you are not going to wear one or can't find one that fits, keep the speed right down. The greatest danger in the countryside is probably hitting a dog, which may run out in front of you without warning.
Picture Gallery
There are many more pictures in the Chocolate Hills Picture Gallery
Chocolate Hills Accommodation
There are a few choices of accommodation within the area of the Chocolate Hills tour, between Loboc and Carmen.
Chocolate Hills Hotel and Restaurant.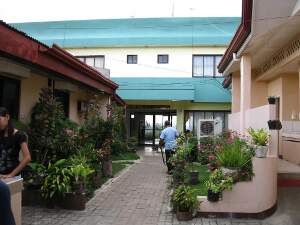 Entrance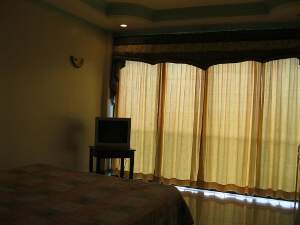 Bedroom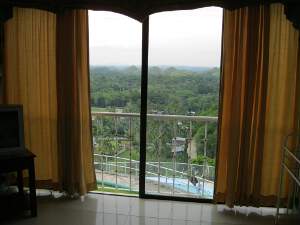 View from bedroom (swimming pool side)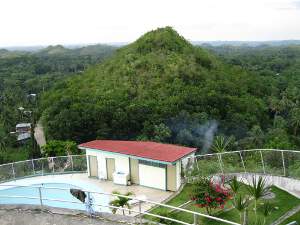 View from bedroom - swimming pool side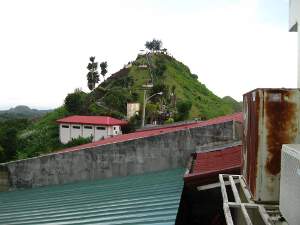 View from bedroom - carmen view deck side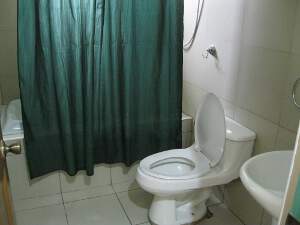 Bathroom
P1,200. There is no other accommodation for those who want to watch the sunrise and sunset over the Chocolate Hills from their hotel room. This is a government owned hotel and it is located at the Chocolate Hill view deck complex at Carmen. There are 8 spacious aircon rooms which are all P1,200 per night for two people. Previously there were cheaper rooms but they are being renovated and are likely to become higher cost rooms when finished.The hotel has has a swimming pool exclusively for the use guests. Don't expect to find any action at night and the choice of meals may be very limited, especially if there are only a few guests - I would take some snacks just in case.
Choose one of the rooms that looks over the swimming pool as the rooms on the other side of the hotel look out over the roofs of the restaurant and souvenir shops. If you have a booking, take a printout and you won't need to pay the P50 per person park entry fee. Extra beds are P200 per person. For reservations call 0919 6800 492. (drop the 0 and add the prefix +63 for international calls)