A Travel Guide for Alona Beach and Panglao Island, Bohol
Updated September 18, 2010
Alona Beach
Alona Beach is Panglao Island's major tourist destination and it has the highest concentration of resorts in Bohol. It's sometimes called the "little Boracay" because of some of the similarities. Tourists looking to escape the crowd often complain that it's overdeveloped and too much like Boracay. Others love it because it has much of what Boracay has to offer but on a smaller scale – it's quieter than and nowhere near as lively as the party capital of the Philippines. What Boracay can't match are the other activities that are available such as the Chocolate Hills and countryside tour.
Although the bulk of the tourists come here looking for fun, sun and beach, a high percentage are also divers who come because of the excellent dive sites within a short distance away. Another good thing about Alona Beach is that there is great snorkeling to be had straight off the beach – for this you need to swim out a few hundred meters. Alona beach is also a popular destination for families with young or teenage children.
Along the beachfront there are some 20 resorts and lodgings, and more than that in the back blocks. The beach front is narrowest at the western end where resorts such as Bohol Divers have built within a few meters of the high water mark. The beach is much wider at the eastern end in front of Alona Tropical Beach Resort. This end is not quite as good for playing in the water because of the coral rubble amongst the sand in the shallows. These have to be walked over before getting to the sandy ocean floor. They are not sharp and feel more like pebbles under foot. The western end in front of Bohol Divers does not have much of this, making it slightly better for those who want to swim at about waste depth.
There are nuisances on the beach who will try to sell you trinkets, sunglasses, a boat tour or a massage, but it is not as bad as in Boracay.
A small branch of the BPI Bank is located near the junction and it has a single ATM machine that accepts foreign cards. Buy your groceries and bottled water from the store on the main road junction, just a few hundred meters inland from center beach – the prices around the beachfront can be very high.
Renting a Motorbike
This is a great way to explore Panglao Island and much of Bohol. If you are on a tight budget, have a look below at the deal offered by Calypso Resort on Danao Beach where free unlimited use of a motorbike is included with each low cost room. Around Alona center beach you may be approached many times by men wanting to rent you a motorbike. Don't rent from them unless there are no other bikes available. My recommendation is to rent from RHEAS Rentals. Their details and other general information about motorbike rentals are in the Chocolate Hills Guide under motorbike rental.

Alona Beach Restaurants and Bars
From late morning on, the center beach is lined with tables and chair for diners. In the evening a few of these places will have live music. For a sunset dinner on the beach, there are many restaurants to choose from. Most offer fresh fish or meat grilled on charcoal. Lapu Lapu is a good choice fish for those who like a white meat.
Powder Keg
This is where I eat most often when I am at Alona beach. It is a bar/restaurant and they are open for breakfast lunch and dinner. The food is good and very well priced. Their plate-sized burgers are amongst the best I have had in the Philippines and I like their fish n' chips also. The Powder Keg is popular with the local expats and good reviews in the travel blogs also bring in tourists. The Powder Keg is located on the main road near the junction, a few hundred meters inland from center beach. .
l'Eléphant Bleu Restaurant.
Their broad menu caters for virtually all tastes, but foodies would be most delighted with this restaurant. The chef is Swiss/French and the cuisine is a mix of French, Italian and Middle Eastern. They have a good selection of French wines to enjoy with your meal. Their prices are very reasonable - about the same as charged by restaurants along the beach. The restaurant's layback ambience seems to strike a chord with many of the younger European tourists. Their mascot is an old blue Volkswagen Beatle which is permanently parked by the entrance. l'Eléphant Bleu Restaurant is located on the main road near the junction and opposite the Powder Keg. They are open from 8 am to 12 midnight. Tel +63 920 916 7900
Oops Bar
Located on the beach front, Oops Bar is popular with foreign tourists as it serves good western style food. This is probably the best place for breakfast if you want a beach view. Next door is Oops Coffee Shop where they make good espressos and cappuccinos, and there is a wide selection of cakes to have with it..
Saffron Restaurant – Amorita Resort
The exclusive Amorita Resort's Saffron Restaurant is surprisingly low priced and the food is good. Puttanesca P245, Fish Tinola P280, Grilled stuffed squid P220. There are great views from the restaurant over the ocean. Their breakfast is not as cheap at about P500. The resort is located on the cliff at the eastern end of the beach.
Panglao Island
Only a few hundred meters separates Panglao Island from the main island of Bohol and it is connected by two causeways. The north causeway connects to the center of Tagbilaran City. Panglao island is about 13 km long and 7 km wide. Although there are a number of beaches on the island, Alona Beach has the most resorts. The Bohol Bee Farm, about half way between Tagbilaran and Alona beach, is also a popular tourist attraction and resort. Panglao Island is divided into two municipalities with a population of about 30,000 each. Dauis is closest to Tagbilaran and Panglao is on the eastern side of the island. Hire a motor bike from Alona Beach and explore the island.
Dauis
The historic "Church of Our Lady of the Assumption" in Dauis is a popular tourist attraction and a stopover there is on the itinerary of most tour packages. It has a tall bell tower holding the 2nd and 3rd oldest bells in the Philippines. There are a few resorts on the north western side of Dauis facing Tagbilaran. Their main attraction is the view over the channel towards Tagbilaran.
Panglao
Panglao Municipality's population is widely dispersed and the town itself is quite small. Panglao town is only a few of kilometers from Alona Beach. Its salient feature is the San Augustin Church. At the rear of the church, and only a hundred meters from the shoreline, stands a five story bell/watch tower built in 1851. The top of the tower looks out to sea over the mangroves. Panglao Town has a quaint market not far from the church. It's located on the main road which passes through the center of the Island.
Almost next to the church is the Panglao jetty/pier. This is the transit point for tourists wanting to get a boat to Balicasag Island, one of the very top dive sites in the Philippines. There are great views from the end of the jetty. Its vast surrounding mangroves look pristine and barely show any effects of the nearby human habitation. The jetty is a great place from which to view the sunsets.
Right next to Panglao town is the peninsula called Doljo. There are several resorts located along its northern side and they seem to cater mostly for Korean package-tourists. The coastline of Doljo is not accessible except by entering a resort. The beaches are not practically good along here.
Just a kilometer east of Alona Beach is the undeveloped Danao Beach, which can be a low cost and tranquil alternative for backpackers and budget travelers. See below for more information.
Alona Beach Accommodation
There are about 50 resorts, guest houses and hotels all over the island, but most are around Alona Beach. Many of these resorts have swimming pools which is great for those holidaying with children. For the peak seasons, around Christmas and Easter (Holy Week), you must book your accommodation well in advance because supply is not enough to meet the demand then.
Expect the staff to be memorably friendly – if not, then you are missing out on a large chunk of what makes Bohol special!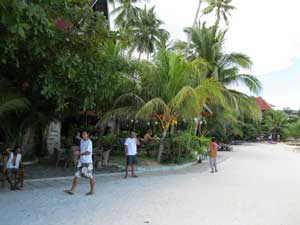 Alona beach view from front of Alona Tropical Beach Resort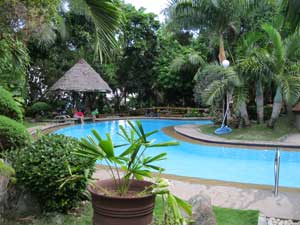 Swimming pool at Alona Tropical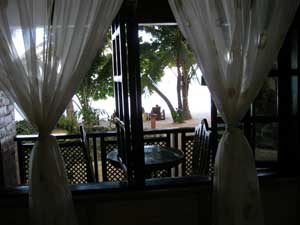 View from window of one of the bedrooms.
P1,300 – P5,500. When reviewing this resort, the first things that struck me was the friendliness of the staff, the beauty of the gardens and the high standard of the rooms. My guide for this large resort, Marilou, was an embodiment of the charm and hospitality that makes Bohol special. During my stay here, I found all the staff to be friendly, creating an ideal space in which to relax. .
Alona tropical Beach resort has 55 rooms with more under construction. These are set in beautifully landscaped gardens with gazebos, fish ponds and bridges. The garden includes a swimming pool which has lots of shade around it.
The aircon room rates start at P2,000. I stayed a few nights in a fan room which cost P1,300 per night. It was excellent value given the quality of the room and the good view over the ocean form the balcony. The cotton towels in the room were large and thick. A serious criticism of the fan room is that where there are two single beds, there should be two fans – it is unbearably hot at night otherwise. If they won't give you an extra fan, it may be worth taking a more expensive aircon room. I was refused an extra fan but I borrowed one from the unoccupied room next door. Telephone +63 38 502 9024
Their beachfront restaurant is beautiful and adorned with a variety of cultural artifacts. Unfortunately, my breakfast there was horrible, as was the service - a memorably bad start to my morning. The waiting staff were a rabble of unsupervised OJTs (on the job trainees). My bacon and eggs and the rest of the breakfast were as bad as the service. I would not have breakfast there again. Oops bar is almost next door, so have your breakfast there if you don't want to walk too far.
Click on the link to see more pictures in the Alona Tropical picture gallery
Ging Ging Homes - Alona Beach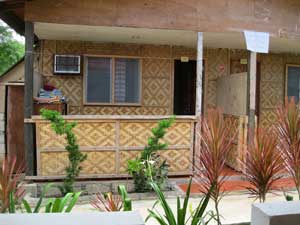 Ging Ging - small P850 cottage
Inside of small cottage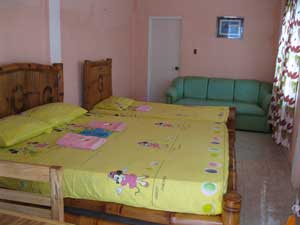 Inside of family room - P1,500
P850 & P1,500. This accommodation appears to be reasonable value given that the rooms have aircons and private bathrooms, and its only several hundred meters walk from the beach. Access to the small property is via a path opposite Alona Kew's main entrance. They have 4 rooms in two duplexes. Two of the rooms are large family size with a double and single bed. I have not stayed in Ging Ging Homes but the rooms look clean and tidy. Call or text 0919 597 0925
Bohol Divers Resort - Alona Beach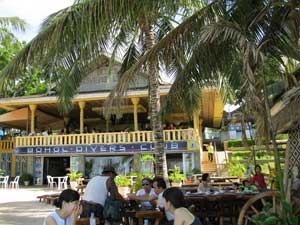 Restaurant upstairs and dive shop at ground level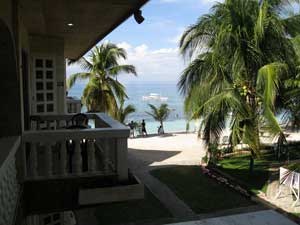 View from villa balcony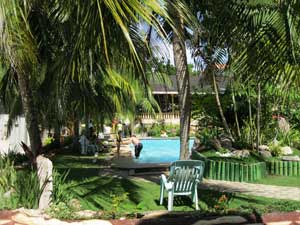 View from villa balcony over the pool
P500 – P18,000. Some of the reviews of this place on the web are not very flattering, and I would concur. Bohol Divers Resort is located at the far western end of Alona Beach. They have a variety of accommodation but I have only stayed upstairs in their "villa" accommodation. The spacious four upstairs villa rooms have balconies with nice views over the beach, gardens and swimming pool – room cost was P2,500 a night. These rooms are only backpacker standard rooms and well overdue for renovation. The two beds in my room were wide singles but the bed sheets were narrow with no tuck-in – as a result, I awoke in the morning lying on an old bare mattress, which I loathed. The towels in the room were small and threadbare..
Their swimming pool is large with a nice setting and lots of shade around it. Their large restaurant has great views but the food there is very ordinary, as is the service. The front desk staff were efficient but not particularly friendly.
Swimming and snorkeling in front of Bohol Divers is very good, and there are few broken corals fragments in the water of which none are sharp. Telephone Bohol Divers Resort on +63 38 502 9047
Alona Palm Beach Resort
This resort ceased operating on May 31, 2010. The ill health of the owner has been cited as the reason.
Danao Beach
This beach is just a kilometer east of Alona Beach. There is limited accommodation here but a place like Calypso Resort offers excellent value backpacker rooms. Most of the tourist services that you require are available such as boat hire for snorkeling, diving or going to Balicasag Island, dive equipment hire and diving lessons. By motorbike or tricycle, it is only 5 minutes ride to Alona Beach. The western end of the beach is good for snorkeling as it is part of the marine sanctuary. Some more pictures of Danao Beach are on the Danao Beach Picture Gallery.
Calypso Resort - Danao Beach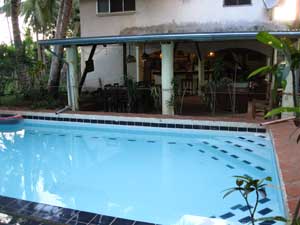 Calypso Resort swimming pool with restaurant in the background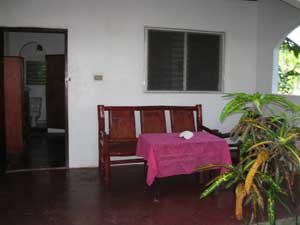 Porch outside of fan room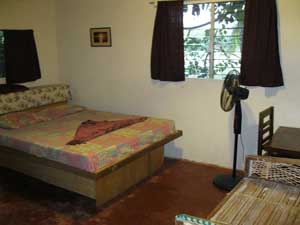 Fan room
P650 & P1,100. Each room includes unlimited use of a motorbike. If you are looking for budget accommodation and intend to rent a motorbike, then it would be difficult to find a better package than what is offered by Calypso Resort. They have only 4 cottages, but they are spacious and have a front porch with table and chairs. The cottages look out onto the swimming pool and restaurant. The resort is only a one minute walk from the beach. DIving lessons, dives and snorkeling tours can all be arranged from here. The fan rooms cost P650 and the aircon rooms P1,100.
Click on the link to see more pictures of the Calypso Resort in the Danao Beach Picture Gallery
Bohol Bee Farm Resort and Restaurant
What makes the Bohol Bee Farm special amongst Filipino resorts is its tranquility, the beautiful fresh salads from the restaurant and the quintessential Boholano friendliness of the staff. The resort is a work of art and a labor of love. I enjoyed my stay here, as did some of my family and friends. It's very popular with Filipinos who make up some 80% of the clientele. The foundation of the business is the organic farm that produces fresh vegetables, honey and other farm produce. These are made into products which are sold in their shop or made into meals served up in their restaurant. and some are ingredients for their large range of very delicious home-made ice-creams. The vast range of ice-cream flavors includes malunggay, which is surprisingly delicious.
The resort is located along a cliff, about 20 meters above the ocean. The resort has many restaurants, a convention area, a swimming pool and plenty of places to stroll and relax. There is a marine sanctuary In front of the resort with lots of fish and corals - a great place to snorkel. Swim out about 100 meters to where the ocean floor drops off and follow it for as far as you like. Swimming is OK in some spots at high tide, but there is a pontoon that can be hired at P80 per hour that will take you to deeper waters at low tide.
Many day tour packages from Alona Beach include a stopover at the Bohol Bee Farm. The attraction is the ambience, the handicraft shop and the ice-cream parlor called "The Buzz". Their tourist shop also sells bread, muffins and a wide range of bee and honey products.
If you are looking for some action at night, you are not going to find it here. It is a very long walk to the main road so getting out of the resort is usually done by hire car, van or tricycle. If you can ride a scooter, then hiring one during part of your stay would be a fun way to get around – see the Chocolate Hills Guide motorbike rental. for more information.
Note that the bee hives are now on a distant property so there is no chance of you getting stung.
Restaurant
There are 4 restaurants to choose from, all with the same menu and staff but with different settings and views. The prices are reasonable and their extensive menu includes a wide range of healthy meals and delicious fruit drinks. The "Organic Garden Salad" is as beautiful as it is fresh and delicious. It consists of fresh picked assorted romaine lettuce, radish, turnips, mustard greens and indigenous flowers served with honeyed mustard salad dressing. A single serve costs P140. Even if you are not staying in the resort, it is worth having a meal there; or at least a snack and fruit drink.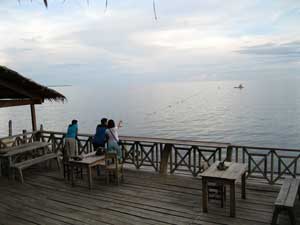 Looking out over the marine sanctuary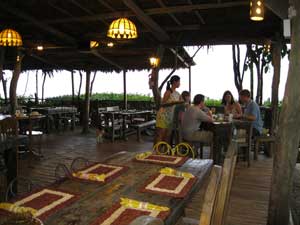 One of the 4 restaurants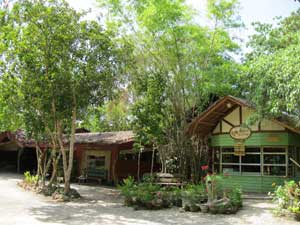 Entrance to the Bohol Bee Farm
P2,000 – P7,000. Most of the accommodations are small air conditioned bungalows with private bathrooms. All rooms have a small refrigerator, cable TV and hot/cold showers. Typically the bungalows cost P2,500. The highest price of P7,000 is for the villa, which has two bedrooms and a furnished living and dining area. The accommodation includes free pier or airport pickup and drop-off. Bohol Bee Farm staff can arrange tours for their guests for all over Bohol any they offer a variety of packages and they can be booked on-line.
Click on the link to see more pictures in the Bohol Bee Farm picture gallery